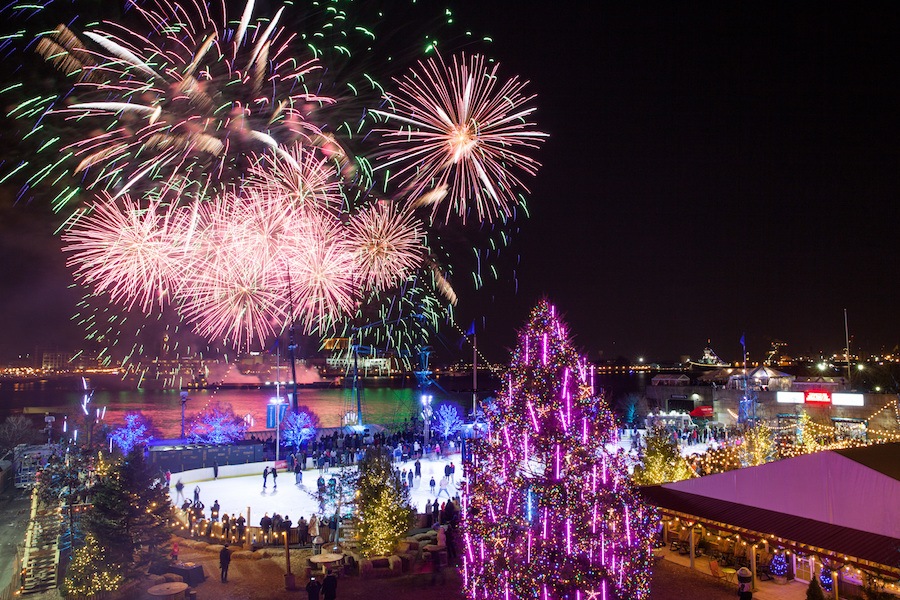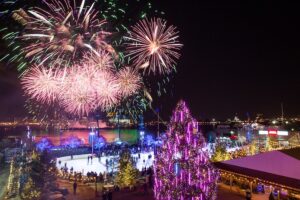 The Fireworks
A lot of the big New Year's Eve parties in Philly have one thing in common: They all face east. That's where the fireworks are — over the Delaware River, just south of the Ben Franklin Bridge. As usual, there are shows at 6 p.m. and midnight, depending on how into it you are about the whole thing.
Free, 6 p.m. & midnight, Penn's Landing.
New Year's Eve Parties on Ice
You can enjoy excellent views of the fireworks from Winterfest's NYE shindig. Get an ice skating ticket or go for the "spectator" option if wearing little axes on your feet isn't your thing. You'll also have access to hot chocolate and snacks plus pay-as-you-go drinks and food.
$35 for spectators, $45 for skaters, 6 p.m. & 10 p.m., 101 S Columbus Blvd.
Making Time New Year's Eve 2020
Philly DJ/veteran party-thrower Dave P. moves his annual NYE extravaganza to The Ave., a new club on Columbus Boulevard. Making Time is a proven name in Philly partying, and every other word by out of Dave P. these days is "transcendent" or "transcendental," so this should be a good time. Music by Avalon Emerson, Zillas on Acid and Mr. P. himself.
$25-$35, 9 p.m.-2 a.m., The Ave., 520 Columbus Blvd.
Cherry Street Pier
This recently renovated pier on the Delaware is prime real estate for the NYE fireworks, and this year you have two parties to pick from: one for kids at 5 p.m. (with games, face-painting, hot chocolate, etc.) and one for grown-ups at 10 p.m. (with music, alcohol, firepits, etc.).
$25, 5 p.m. (kids party) and 10 p.m. (New Year on the Pier), 121 N. Columbus Blvd.
Dave Chappelle
Fresh off his hit standup special Netflix Is a Joke, the veteran comedian plays two shows in Philly on New Year's Eve. Just a heads up: Your cell phones will be detained during the show.
$159-$399, 7 p.m. & 10 p.m., The Met, 858 N. Broad St.
Spirit of Philadelphia
If you have the means, this floating party on the Delaware sounds like a top shelf option for ringing in the new year. Besides a primo view of the fireworks, you get dinner, DJs, champagne, drinks and more. There are two cruises to choose from.
4 p.m. ($114.90) & 8:30 p.m. ($189.99), 401 S. Christopher Columbus Blvd.