Today's mortgage rates remain low and this is good news if you're in the market to buy a home.
Just like your credit and down payment affect how much home you can afford, mortgage rates are not to be ignored. If you're in the market to buy a home, you'll want to watch mortgage rates carefully and understand how a rise in rates can make a home that was once affordable, unaffordable.
The 30-year fixed mortgage rate averaged below 4% over the last year, making rates historically low compared to almost any year since Freddie Mac began tracking rates in 1971 (when they averaged just below 9%).
So, why is a lower mortgage rate better? Simply put, lower mortgage rates make homes more affordable, which increases your purchasing power — the financial ability to buy the home.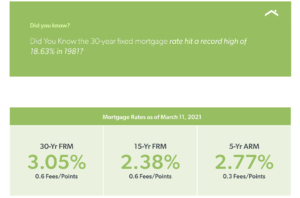 To put rates in perspective, this chart outlines a $200,000 loan financed at various rates – allowing you to quickly see how rates impact your wallet.

Consider discount points
You may want to consider talking with your lender about buying discount points upfront to "buy down" your mortgage rate. Buying discount points can save you money over the life of the loan, but whether it makes sense depends on your personal situation. See how paying extra points might lower your rate.
Keep in mind that your credit history can directly impact the rate you are given by your lender. The better your credit, the better your rate.
SOURCE: https://myhome.freddiemac.com/buying/mortgage-rates.html