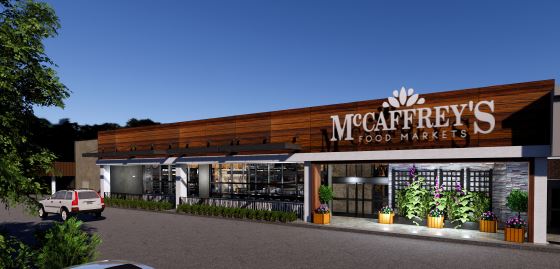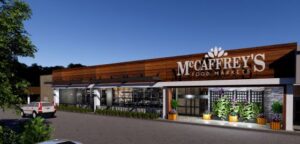 A controversial plan proposed by Alterra Property Group to build a three-story apartment building at the site of a former Acme in Gladwyne has fallen by the wayside and a McCaffrey's Food Markets will now backfill the vacant store.
A plan presented earlier this year by Alterra prompted residents of the Main Line community to band together against it. Alterra had proposed 34 apartments and 8,000 square feet of retail space at the property at 1025 Youngs Ford Road. "Save Gladwyne Village," a community organization, became a force against the project as well as a rallying cry when Lower Merion gave the project a favorable zoning approval.
Initial resistance and reactions to proposals frequently play out along the Main Line and other communities when the status quo is challenged and the situation in Gladwyne was no different. A recent example includes Urban Outfitters Inc.'s plans to redevelop the former Waterloo Gardens' property into Devon Yard, which was met with vehemence. Another similar situation took place in Radnor a few years ago when residents fought against Villanova University's plans to build residence halls on a sea of surface parking along Lancaster Avenue. Both plans were scaled down and eventually developed.
The 27,500-square-foot Acme in Gladwyne closed in 2019 and has sat vacant since. After regularly driving by it over the past several years, Leo Addimando, managing partner of Alterra, began to envision different scenarios with the property and approached the owners, the Barker family, in the latter part of 2020. While backfilling it with another grocery store was an option, it had potential as a mixed-use development, Addimando said.
"It had a lot of similar characteristics of projects we have done in the city," he said. "There is a village, an underutilized piece of real estate that had the potential to be re-tenanted or redeveloped and it also had some scale."
The property totals nearly an acre along Route 23. While the township's Village Center Zoning designation would open the door to denser development and Alterra received a favorable zoning determination, the real estate company continued to have ongoing discussions with commercial tenants including McCaffrey's. Alterra decided to move on from the mixed-use development proposal.
"There came a point in time with the fever pitch of the neighbors…there were some personal attacks levied and a fundraiser, it became too much," Addimando said. "McCaffrey's was most interested in the location and least daunted by the nearby competition. Frankly, I think they have the right offering and the right formula to compete and be successful there."
McCaffrey's, a boutique grocery chain based in Langhorne, operates eight stores throughout the region and in high-end demographic areas such as Blue Bell, New Hope, Yardley, Newtown and Princeton. It signed a long-term leased for the Gladwyne space and Alterra will spend about $6 million renovating and upgrading the building.
Alterra has the property under agreement and is expecting the close on its purchase over the next several months. McCaffrey's is expected to open in the fall of 2022.