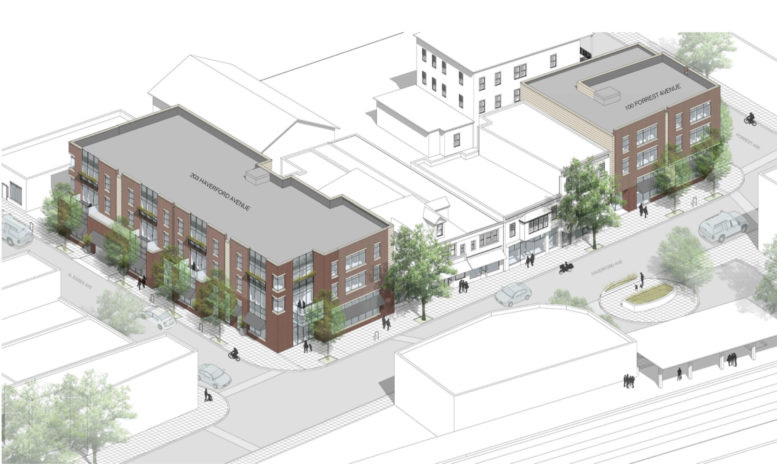 Construction is progressing on a pair of developments on Haverford Avenue in downtown Narberth, just outside of Philadelphia. The larger building is situated at 203 Haverford Avenue, while the smaller is located on the opposite end of the same block, at 114 Forrest Avenue. The larger structure will stand three stories tall, with 16 residential units over commercial space. Meanwhile, the building at 114 Forrest Avenue stand three stories tall and hold eight residential units. A commercial space will be located on the ground floor.
Each building feature near-identical exteriors, with alterations made for the varying sizes of the building. Floor-to-ceiling windows at the ground floor will make for nice street presence, while brick will be used as the primary material on the remainder of each exterior, rising the full height. Large rectangular windows are commonly bordered by more narrow windows, helping create balance and contrast. Tan siding  is used as an accent on street-fronting building faces, and covers the entirety of the non-visible sides of each building to save on construction costs. Street trees are shown to be planted around the footprint of each building, which will mature in time and add to the town center.
The new buildings will be replacing similar properties, though differences can be identified. 203 Haverford Avenue will be replacing a one story commercial building. The deep property made it prime for development, as well as the presence of a singe row of parking spaces. At 114 Forrest Avenue, another one-story commercial building stood, though this one did not reach the street's edge, rather surrounded by asphalt. The result was a non-pedestrian friendly usage of a prime property, so its removal is unsurprising, and also not too sad.
At 203 Haverford Avenue, foundations are being poured, and the concrete elevator shafts/stairways are beginning to make their way off of the ground. Chain link fences barricade the entirety of the site, though do not shut off the sidewalk, allowing the town to function around the development site as if it normally would
At 114 Forrest Avenue, a similar scene can be found, though progress is just slightly behind. Foundations are being poured here, and cinderblocks are beginning to make the structure go vertical.
Overall, the combined new development between the separate buildings will prove beneficial for Narberth's downtown. Not only does the project add multiple retail spaces to Haverford Avenue, but the 24 units situated on upper floors provide walking-oriented residents who will support surrounding businesses. Each structure is located essentially just across the street from Regional Rail at Narberth Station, so commutes are incredibly easy, and this transit presence allows the density to make even more sense.